There are days when you just feel like giving up. Days when you feel like nothing is working right. Days when you can't find a way, you get lost and lose hope that things will get better.
Days when the pain is so hard to take that you just can't even stay on your feet. You just want to run away as far and as fast as you can or you feel you want to give up on everything. Don't ! Don't ever let go! Never give up!
You feel like you can't do it anymore but you can! You didn't come here  to give up! You came here to live and do something with your life.
Life is not always pink! It's not easy and sometimes it's not even fair!
Maybe it's your stressful job, you worked so much but you have nothing in return. Maybe it's your partner, your children, some kind of illness you are fighting with or you are suffering from the loss of someone dear. Or maybe you just want that hand to hold on.
There can be so much emotional pain in someone's life that they feel overwhelmed and think of giving up.
Do you really want to give up? To be defeated and just throw everything away? Life is a gift given to you so you need to hold on to it!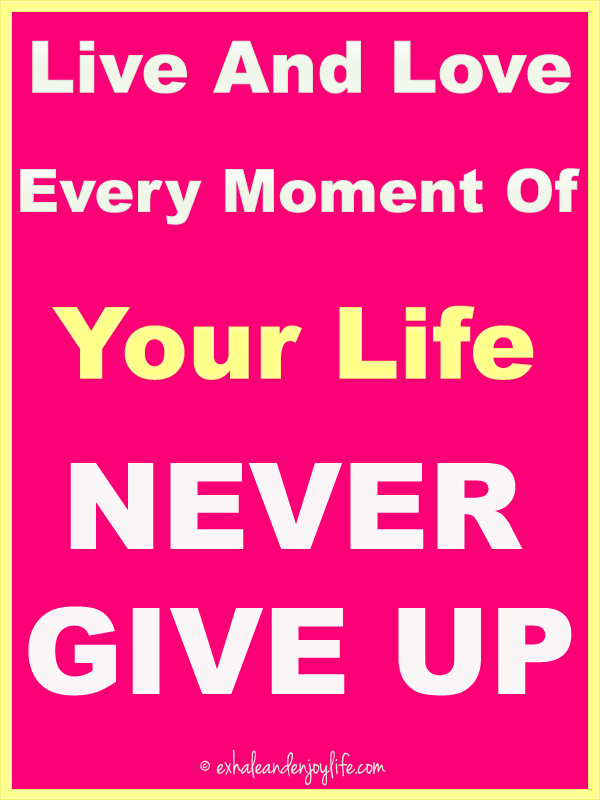 There are people in this world who are living and enjoying life as much as they can. People who are happy and successful and you…YOU can be one of those people!
Life is short so don't give up just because you are afraid to try. Don't dwell on past failures. Learn from your past and your mistakes.
Sometimes there are moments when you are down and nobody notices. Some people are indifferent. Some don't realize or care. Don't think of them…you have all you need to move on.  With time you will find good friends who will stay by your side.
Each day is a chance!…an opportunity to a fresh start ! So pick yourself up because you didn't come here to give up! You try, you fail, you try again! And when you hit bottom…the only way is UP! So stay strong and live your life to the fullest. Never give up!
Get out in the world, do what you love, screw up, try again, screw up again, don't let go, don't give up, try again and succeed! Live and love each and every moment of your life!
Check out this article for more inspiration
How To Be Happy And Enjoy Life The Easy Way