Have you ever asked yourself what's really holding you back from achieving your goals? You really want to succeed so what's stopping you?
Let's find out!
Avoiding What You Should Be Doing
Isn't is crazy how it's always easier to do what's wrong than what's right?
You know that junk food it's not healthy for you but you order it anyway because it's easier than to cook your own food. You give yourself the excuse "just this time" or "I'm too tired to cook" or… "I simply don't have time" But somehow "just this time" ends up being most of the time and for some all the time.
People usually avoid what they should be doing even if they know it's wrong!
Even if those things are actually exactly what they need. Good things for them that will take their life to a different level! A better one! Here's how to really set goals in life and achieve them.
A Change Of Mindset
There are people who are not afraid to take chances. Who seem almost too confident in themselves and even if they screw up things they are always saying yes to opportunities, always working on something.
And then there are people like you.
Here's the opportunity… you got this! You tell yourself you can totally do it! Ok calm, calm, relax…heart starts racing, you begin to sweat, anxiety kicks in, you're almost shaking!
Should you do it?
But what if you fail? Should you stop?
Should you take more time to think about it?
Heart keeps pounding…you tell yourself to relax but instead you're getting even more nervous…
Why the heck is this happening to you? Every time!
Then you start feeling bad, upset, depressed, disappointed by not taking that opportunity, not giving that chance, not taking that step…
You tell yourself that next time you're totally going to do it because you really need to make a change. If you're reading this you surely want it. Until you're again face to face with opportunity and what do you do?
You freak out again and back down.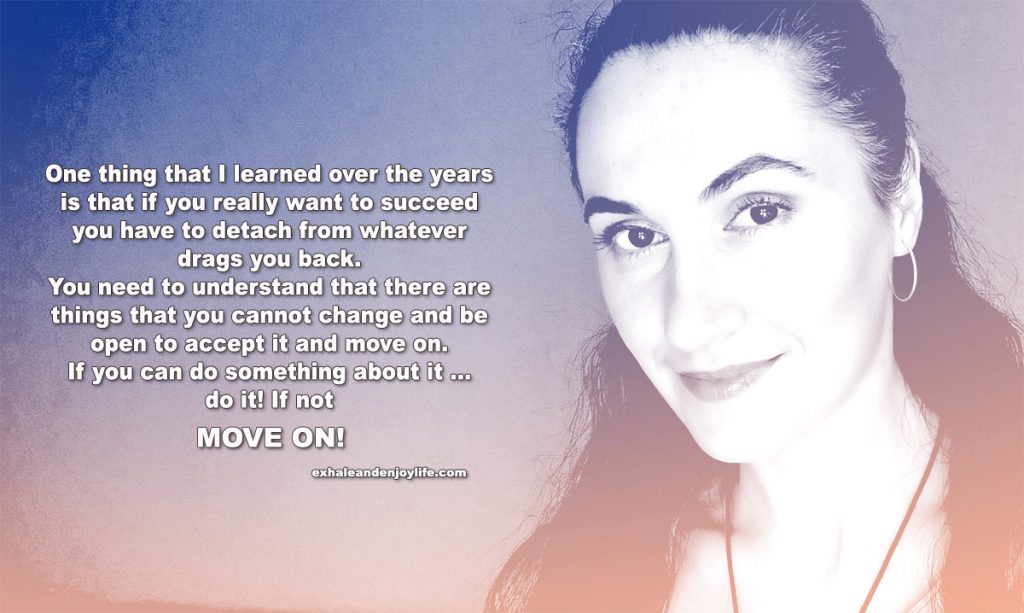 Listen… you're not alone! And guess what… even those strong, successful people who always seem to have it all figured out have their moments of weakness. The difference is that those people learned to not let a certain situation hold them back from achieving their goals!
The one who can really make a difference is YOU! No one can actually come and do things for you. People can teach you, show you, guide you, be there for you but the one who has to do the work is YOU!
Search And Improve
Whenever I'm writing an article I go over it before publishing to make sure there aren't any mistakes ( at least not big ones 😀 ) and improve if I get new ideas. Thing is…I learn as I go and I improve on the way. The more I write the better I become, the more I learn.
What does this have to do with you?
Take a good look at yourself, at your life, what you do, your habits, your daily routine, your beliefs. Search and see what's holding you back. Where do you need improvement?
So many people finish school and they have no idea what to do with their lives. They have no idea who they are, how to be themselves and where they are going.
They get to a certain age unhappy, depresses, feeling lost and stuck and they have no idea how to get unstuck. So many don't even have access to school or any information. Others have access to everything but choose to do nothing.
Why exactly you end up in the same situation all the time and repeat the same mistakes I can't really tell you. This is something you need to figure it out on your own. We're all different and we all come from a different background.
What I DO know is that you have in yourself the ability to transform your life and achieve your goals. You can get above whatever it's holding you back from living the life you desire. If you got this far reading you obviously have a strong desire to change, to make things better.
Take a good look at your life so far, look at all the opportunities you missed, the decisions you made, the way you've been raised, the limiting beliefs you hold on to. Look at how you see yourself.
Think of what you really want to achieve in life then think of what is stopping you from doing so?
Is it fear? Fear of what? Failing?
Have you tried learning from your mistakes? Is it what people think or the society pressure?
Have you really tried going after whatever goals you have in life? Or procrastination kicks in all the time?
Get a piece of paper and write it all down. Think of ways you can improve your life. Keep in mind that change doesn't happen over night. It will take time so be patient with yourself.
If you need to get rid of bad habits and build some healthy ones that will help you reach your goals in life faster, this article will help you do it!
Find What Works For You
A mistake many people do is trying to do what others do. Each of us has certain skills and abilities and so much talent goes to waste because instead of being yourself and using your skills to achieve your goals you try to do what others do.
Listen, it's great to be inspired by what others do and learn from them.
But…
We're all different and what works for one might not work for the other. Some like to plan in exact details, some are more spontaneous. Some are morning people while others work better at night. Some have mad skills in one area and others have none! Take some time to figure out what works for you! Look at what you're good at.
Consistency
A friend who was reading my blog told me that he totally agrees with what I write but he finds it hard to actually do it. I asked him if he truly tried.
It's always easier to not do. Not try! It's always easier to build the bad habit then to actually make a change towards a healthier one. But…if you want results consistency is key. Setting a big goal can be scary but not if you're making a habit of working daily on small steps that will in the end help you achieve the big one. Take small steps every day.
Instant Results
Sure we live in a fast world today! But building something that actually lasts needs time. Most people quit because they expect instant results. Real success, the one that lasts takes time!
It doesn't happen over night.
Just like with everything else it takes time to master it! So how can you expect instant results?
It takes time, patience, effort and sometimes you even fail a few times before actually succeeding.
What Will Others Think Of You
No matter who you are, what you do and how great you are, there will be people who will disagree or not like what you're doing.
Understand that you have your own life to live and if someone doesn't respect that, move on. You came here to live your own life…so DO IT !
I know this is hard to do. Especially if it's someone close like a relative, a family member. But if they have the wrong idea and don't want to open their eyes and see how things truly are…it's not your problem.
Maybe they do it because of lack of knowledge, maybe from envy…there could be so many reasons. No matter how much you tell them, show them and even if somehow they actually know the truth…they're too weak to admit it.
Don't take it personally. Some people just are the way they are with everyone, not only with you.
Some people don't realize what they are doing until you tell them. And this is very helpful if it's someone close to you like a family member or a friend. If they don't understand and are not willing to make an effort to change, move on.
People who really care about you won't try to bring you down. They will stand by you and support you. So chose wisely who you spend your time with!