Wouldn't it be nice if you could overcome your fear of change? And not only that you won't be afraid of change anymore but, you'll also use it to improve your life.
Sounds good? Yes? Then let's see how you can do it.
Has it ever happened to you to wake up one day and realize your whole world is upside down? In a second your life can change. Just like that. Even a small change can make you feel uncomfortable.
Soon, anxiety and worries jump in. You keep on thinking that if you wouldn't have taken that decision, that road, that bus, that call, that maybe things would be different, that if…
Thing is… it happened. Dwelling on it won't change much.
Maybe it was a result of your past actions and it was predictable or it just happened. Unexpectedly! You had no control over it.
So how do you deal with it?
You freak out, get angry, sad, depression soon takes over and you find yourself stuck in that mood. Going through a change in your life can be overwhelming, stressful and hard to accept.
You have a choice in life, you can control your actions and reactions to different things and situations. Our attitude towards problems and difficult situations it's extremely important because it defines our future.
Change is normal even if you may not want it or like it. Everything changes, the world, nature, technology, you… nothing stays the same. You change over the years, your body, your life, your hopes and dreams, even your mood changes throughout the day.
When something happens that requires us to accept a change we find ourselves having a hard time realizing what happened, why it happened and overcoming that situation.
The cool thing is that you can use change to evolve and improve your life. Here's how: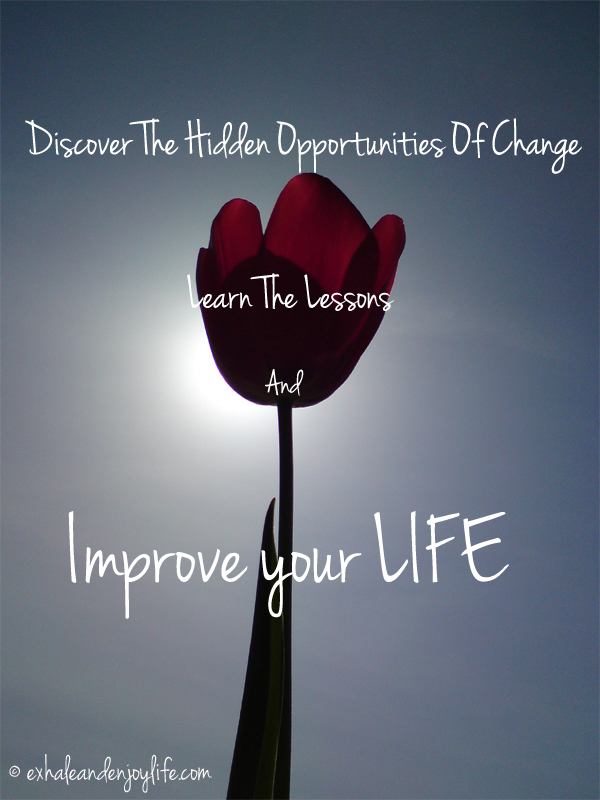 Take Your Time
Changes can be hard to accept and understand. Take a step back to reflect and understand what happened. Give yourself some time to calm down. Think about it, learn what lessons you can. Let it shape you, make you stronger and wiser.
It's hard to let go because it feels normal. It feels safe, it's what you're used to, what you know and what's new scares you.
Instead of fighting and clinging to the past, try to see the good in that change. You might not see it immediately but it might turn out to be something better for you. Trust yourself and believe that you can overcome it. Instead of seeing it as a problem see it as an opportunity.
Make Peace With Your Past And With Yourself
Stop blaming yourself and others, the circumstances, the time, the …whatever. Stop being so hard on yourself! Everyone makes mistakes, we're humans. No one it's perfect.
Usually when people are making a decision it's what they think it's best at that moment, that it's the right thing to do. Later, they may find out it wasn't such a good idea. But that's ok. We make mistakes, we move on, blaming on who knows what won't fix anything.
And you know what? You'll only make things worse. All that guilt will ruin your days, making you feel sad, angry and depressed…and that's not the way to solve anything. Forgive yourself, make peace with yourself and your past. You made a mistake, everyone does.
Figure out what you need to learn and move on. You can't go back and change the past, you can only learn from it.
Use Change As A Sign, A Guide
See it as a new beginning to make a positive change in your life. See it as a fresh start! If you end up in the same situation all the time maybe you should stop and listen. Instead of ignoring and making the same mistakes ask yourself if there's something you need to learn.
Unexpected changes can bring lots of opportunities. Sure it may not look like an opportunity at first but everything has a purpose.
Get It Out
It's ok to cry, to be sad, depressed, to give yourself some time but don't remain there! Some things can be overwhelming and can drag you to the bottom. But you know what? When you hit rock bottom there's only one way. UP! Don't stay on that bottom and don't lock yourself in that bad mood!
Write a journal, go workout to release that negative build up energy, cry if you feel the need, take some days off. Whatever makes you feel better. Ask for help from your friends, your family or specialized people if you must.
Take An Honest Look At Yourself And Make The Necessary Changes
Was there any way you could have avoided that situation? Think about it for a moment. What can you do in the future not to repeat it again? Are you overreacting and over analyzing?
Most of the things that happen to us are a result of our own actions and sometimes we're the ones that complicate them. Analyze and see what you can improve. Find the root of your problems and fix it if you can. If you can't fix it, accept and move on. Focus your energy on your present moment and how to improve your life.
Understand that change is inevitable, it's part of life.
Changes can be small or big. Some can be foreseen while others totally unexpected. Some come to you without wanting them while others you have to initiate them in order to evolve and grow.
Remember that you may not always have control of what happens in your life but you can control the way you react to each situation. You can either let it drag you down or let it make you stronger and wiser. It's your choice !
Enjoy the changes in your life. Learn from all the experiences and always ask yourself "How can I turn it into something positive?"