So holiday season is here and Christmas is just around the corner and if you're looking for some healthy tips to keep you in shape during the holidays and not ruin your progress ( or not too much 🙂 ) here are my tips for you:
Ready? Here we go…
Cook It Healthy
If you really want to keep things as healthy as possible you can totally do it by choosing to cook your own food and make it exactly how you want it. This way you can avoid anything you don't like.
I know it might not be easy to do but…it's all about making wise choices and once you make it a habit and you know it's the right and healthy thing for you, it won't feel hard anymore but easy and natural even around the holidays.
Healthy can be as delicious as you want it to be!
Don't forget that eating healthy it's simply a way of living not just diet for a few weeks.
Be mindful about what and how much you're eating.
If you're going to a restaurant, you are visiting some friends or going home to spend the holidays with your family…remember you can always make healthy choices.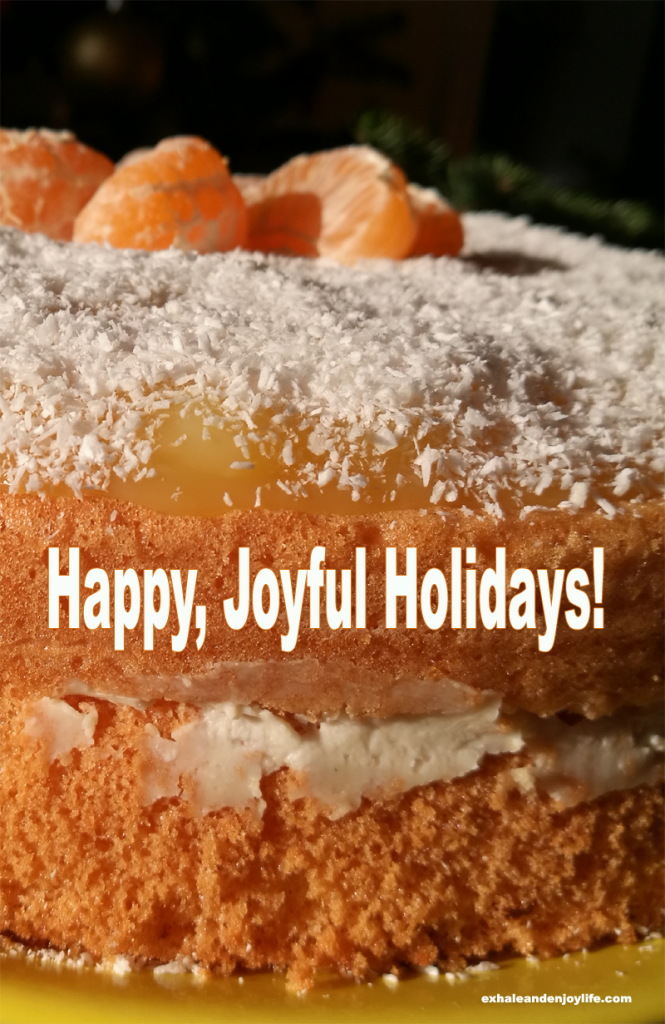 Pay Attention To Your Shopping List!
If you're the one doing the shopping this year for the holidays make sure you go for the healthy stuff.
Fruits and vegetables are your friends! Also make sure you're getting some healthy snacks or do them yourself, especially if you're traveling during the holidays and you're away from home and your usual diet!
Focus On Having A Good Time
Focus on the time you're spending with your family and friends. When you constantly worry about food you can become so stressed out that it might actually take away your joy.
Forget about food and weight and just enjoy and have some fun.
Focus on having a great time with whoever you decide to spend the holidays with!
If you're spending Christmas alone this year check out this article on how to spend Christmas alone and enjoy it!
Limit Alcohol
One simple rule to follow…just keep MODERATION on your mind! Enjoy the drinks but don't overdo it!
Sleep
All the preparations, cooking, cleaning, shopping, travel, family gatherings, parties, etc. might give you some stressful days and sleepless nights.
Sleep is very important for recovery and good functioning of the mind and body! Lack of sleep not only drops your energy level but also weakens your immune system. Make sure you're not skipping sleep!
Drink Water
With all the delicious food and drinks don't forget to HYDRATE!
Eat Often But Small Portions
I love all the delicious food so it's very hard for me not to have a bite from well…all the goodies. And one way to enjoy everything without overdoing it is to eat small portions of what you like.
Move, Move, Move!
One of my favorite and best ways to keep myself in shape around the holidays is to be active. Even if you can't find a gym to work out around the holidays, you don't feel like going to the gym or you're too busy…you have so many other options available to you.
I love working out at home, just put some of your favorite music on and go for whatever you like.
No gym, no weights? No problem!
Don't worry and don't underestimate the power of a bodyweight workout.
Plus there are so many winter sports out there for you to explore!
If you like, you could go for a refreshing run, even a simple walk can help out.
Play with the kids, go out with your dog and have some fun. Build a snowman, play winter games, make it fun and involve the whole family.
It can be a really wonderful experience and make some awesome memories!
Worry Less, Enjoy More
Christmas it's once a year and to be honest I just LOVE enjoying everything.
Like people say it's one or it should be one of the most wonderful times of the year. It should be a time of joy, love and happiness and not stress about food.
Indulging a little bit and enjoying what you eat won't ruin your progress just how a few days of eating healthy won't make much of a change in your life.
Keep in mind that there's a big difference in overindulging, overdoing it and simply enjoying the moment!
Winter holidays are once a year so stop worrying so much about what you're going to eat and simply enjoy. Just don't overdo it!
When it comes to any holiday I LOVE simply enjoying it and I really don't stress so much about it. And I have one reasons for that.
I believe in living a healthy life and being fit and healthy all year round and not just from time to time or only for a season.
I also love living and enjoying life and good, delicious food. If you want to eat chocolate, eat chocolate!
But there's a difference in eating the whole chocolate and eating a little bit of chocolate every day!
As I said above with making a habit to choose a healthy lifestyle…a few days a year of eating your favorite food or whatever you like…won't ruin your progress if healthy is what you choose all year round.
Focus on good times, making awesome memories, on sharing the joy and Christmas magic with the ones you love!
Allow yourself to be in the moment and fully enjoy it!
Wish you all wonderful winter holidays!