If you want to know how to reduce stress naturally and enjoy life more here are some simple and effective ways to do it!
Stress can affect everyone's life. Unmanaged it can really mess up your body, ruin your health and life. You don't want that. Don't let stress take away your joy.
Keep reading and you'll find out how to control it and live a better and happier life.
Treat The Root Of Your Stress And Not The Symptoms
Find the root cause of what's stressing you! Don't just cover it. Find the root and eliminate it if you can. Simply covering you'll only postpone it. It's like a toothache…you'll eventually end up at the dentist!
There can be so many causes like emotional stress, difficult times and situations, personal problems, your demanding job, deadlines.
Pay attention to what's causing you stress in life. It's true that we can't control everything but you can control your reactions to whatever is happening in your life.
Stress is an inevitable part of our life but, you have a choice…you can let it affect your life and ruin it or you can learn to manage it or even use it to your advantage. What's your choice? You and only you can decide how much you let something consume you.
Is It Really That Important?
Ask yourself if it's really that big of a deal. We tend to stress out over pretty much everything these days. And too often we let minor, insignificant things ruin our mood and day.
We worry about everything and sometimes even exaggerate. So ask yourself… is it really that important or are you overreacting? Will it matter in a few days? A week? A year? Probably not.
Stop wasting your energy with things that won't matter.
Stay Healthy To Keep The Stress Away
The effects of stress can have a big impact on your life. It will not only affect your productivity but also your health. And listen, you can get productivity back, but not your health. Or at least not easily.
Headaches, stomach aches, anxiety, lack of sleep, palpitations, hair loss, depression… it can really mess up your body and put it at risk. It ruins your every day life.
Having a healthy lifestyle it's essential for a happy and stress free life!
Believe it or not most people run toward unhealthy food whenever they go through a stressful time. You probably did it too. Think about it.
Your body is already under stress, putting it under more stress by eating unhealthy and living a chaotic life won't help you!
Eat healthy foods to restore, refresh and replenish your body with needed nutrients. Get enough sleep. It will help you restore your energy levels, you'll function better. Breathe and relax. Take it easy. Give your body some time to recover. Make time for yourself every day!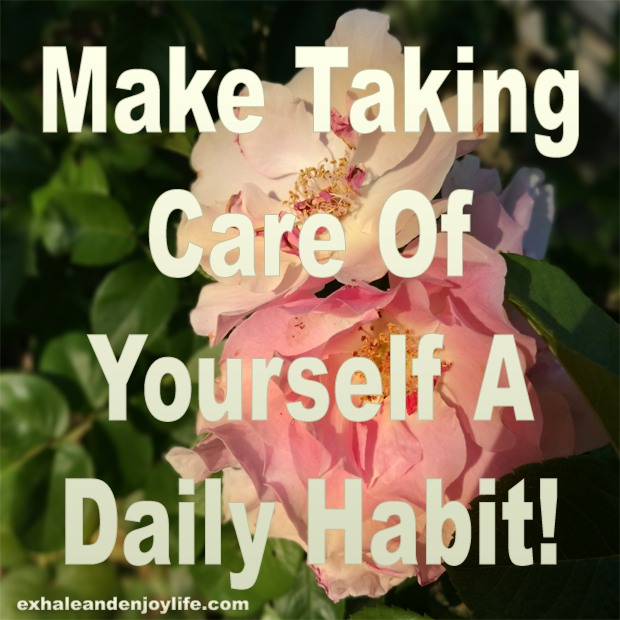 Work That Stress Out!
Swim, jump, run, dance, clean the house…whatever works for you! Do some stretching exercises or try yoga, try martial arts or whatever you like. Just pick one and do it!
Also a warm bath or a massage will melt that stress away, release those tense muscles and calm your nerves. Keeping yourself in shape will help keep the stress away.
Too Overwhelming
Take small steps and don't take more than you can handle. Especially if you feel overwhelmed or exhausted and don't let things till the last minute.
Stop putting things off. You'll have too much to do in such a short time and this will only put more pressure and stress on you.
Do What You Love
Yes… you hear this all the time. But you don't really pay attention to it do you? Loving what you do or doing what you love helps take the stress away.
C'mon…you know this! If you hate it, obviously it will cause you some stress.
True, you can't change things over night and do only the things you love but, you can start making small changes today! If right now you're stuck at a job you don't like, you can find other things you love doing till you'll find a job you really like.
Find something that you love and brings you joy and do it as often as you can. It might be painting, singing, dancing, gardening, housework…whatever you want.
I've recently started painting again. I used to love it in school. When I grew up I fell in love with Photoshop. But the feeling of holding the brush in your hand and just painting whatever you feel like, it's simply amazing. And somehow it melts the stress away.
Try it, take some lessons if you want.
Go dancing. Not only it will melt the stress away but your whole body will improve, your image, posture, flexibility and strength.
Your body will thank you.  And it's a chance to meet new people and make new friends. Spend time doing anything that you enjoy and makes you feel great.
Nature
Nature can be a great healer. Just breathing some fresh air will help take the stress away! Take a walk with your friends, family, pets, anything that's a good company for you. Or simply go outside and breathe.
Watch a calming sunset, go on a trip, take pictures, enjoy the beauty around you.
Plant flowers and take care of them, it will relax you and you'll have your heart full of joy when they bloom. If you have a garden, you can make your own calming space.
Play outside with your furry friends. They will certainly decrease your stress levels.
Music
Music melts the stress away! It can even take your pain away. It's true! So put some music on and just let it work its magic!
Stop Trying To Please Everyone And Do Everything
You get a phone call and immediately stop whatever you were doing, only to do what the person on the phone asked you to. Does this sound like you?
Most of the times you don't even like what you're about to do, but you do it anyway because of what others will think or say, causing you even more stress.
Stop wasting your time and energy with things that don't matter to you. It's ok to say NO! You don't have to please everyone in life.
Just Let Go
Just like that, let it go and move on. Everyone has problems. Some big, some small. But stressing and worrying about them endlessly won't help you resolve or get rid of them.
If you can do something about it, do it! If not…let it go. Letting go can actually lead you to the solution.
When you stop stressing out and calm yourself you open your mind to new ideas. And sometimes one of those new ideas can be the solution to whatever is causing you so much stress.
Don't let stress take away your joy!
If you who's reading this have any tips for reducing stress that work for you, share them in the comment section below. They might help someone who's going through some stressful situations.