Alone on Christmas Day? There could be many reasons why you're spending Christmas alone and no matter what reason you have I know one thing. Being alone on Christmas can be really frustrating. Seeing others really enjoying Christmas with the family, friends and love ones can easily get you depressed.
You are not alone! This time of year can be difficult for so many people. You're not the only one who's alone on Christmas Day.
Listen, spending Christmas alone it's not easy! Sometimes, even if you're not that lonely, things can be so overwhelming that you just can't hold your tears any more. So let them go. Let it all out. It's OK! Believe it or not it will make you feel better.
But, here's the thing…feeling lonely, wallowing in sadness and freaking out about those Christmas Days won't make them any better. Come on, you're smart enough to know it won't change things.
Want to know who can change things? Here it is… YOU! Instead of crying out and being sad because you feel lonely why not make it a goal to make it different this year. Set a goal of making the best of that wonderful Christmas Day.
Make it a challenge to have a magnificent Christmas Day and be happy even if you're alone! And here's how you can do it: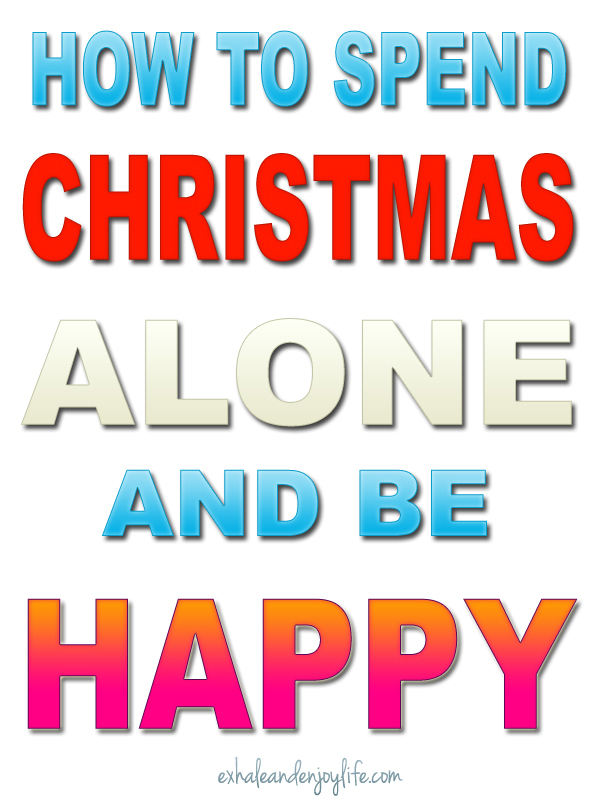 Volunteer
When I was in high school, one of out teacher asked us to bring whatever we could ( toys, money, clothes ) for an orphanage in our town. We went with our teacher to that orphanage.
The smallest child at that orphanage was only a few months old, just a baby. When I saw that baby I realised that even if our gesture was small, that small gesture made a big difference for those kids that day. They were all so happy to see us.
There are plenty of ways you could help. Putting a smile on someone's face on Christmas Day will make you feel awesome! Your effort, no matter how small, won't be a waste of time.
Reach out to people who need you and offer your help.
Some churches organize different events for lonely or homeless people. Whether you're religious or not, offer your help, you'll feel great being part of a team, helping people and brighten their day.
Volunteer to foster animals
Those lovely souls need so much love and care and you'll bring them so much joy by giving them a home and taking care of them. And guess what? They're alone and just like you, would love to spend time with someone dear. Your love and care could save that little soul.
Open your heart and your home for a dog or a cat or…whatever animal you like. You might end up loving it so much that you'll adopt it! You'll make such a big difference in that animal's life! Just make sure you do some research before to know exactly what fostering an animal means.
Most organizations provide free training programs and enough resources for you to be able to care for whatever animal you'll choose. You'll learn new things, have great memories, meet new people, make new friends and help animals have a chance to a life…a happy life!
Adopt a pet
Want a wonderful present for life? It will not only brighten your Christmas Day but your whole life. There are so many beautiful souls that would love to have a home. Your lonely days will be gone and you'll have a true friend for life who will enrich your life in ways you never thought were possible.
Give your time, love and care and in return you'll receive unconditional love, true friendship and lots of happy days! Just imagine that puppy, dog, kitten, parrot or whatever animal you like greeting you happily when you come home!
A Christmas vacation just for YOU!
If you have some money in your pocket you could go on a Christmas vacation. There are so many to choose from. Pick the one you'll like the most and have fun!
There are so many events during Christmas so why not go? Concerts, Christmas fairs, parties.
Even better if you live somewhere near the mountains or the sea, ocean…you won't have to spend too much. A lot of people go to the mountains to spend Christmas. Some cities organize city lights tours.
You'll have plenty of things to photograph, a panoramic view of the city under Christmas lights, the snow, the Christmas trees, meet new people, drink hot wine with cinnamon, sing songs, maybe make new friends and…you'll have fun !
A vacation at home
If you can't go on a vacation, have one home. Give yourself a new look! Something fresh and new will boost your mood. Just do whatever makes you happy! Spend a quiet day at home enjoying whatever you like. Or…have a party all for you. All your favorite food and drinks just for you. Don't forget your favorite cake! ( But don't overdo it ! Keep your heath in mind ).
Watch funny movies all day. Put your favorite music on and just enjoy the day! Do whatever makes you happy.
Decorate the house and make it as wonderful as you can!
Buy some presents for yourself and put them under your Christmas tree. If you have any pets, buy presents for them too! Just imagine how happy they will be.
Make a photo album of the year with your best and happiest moments!
Christmas cards
Send Christmas cards to people you know or simply call them to wish happy holidays. Some of those people could send you an invitation to spend Christmas with them.
Make new friends
On Christmas Day there are many organizations that offer Christmas dinner for who ever wants to come. So why not go and have a lovely time meeting new people and making new friends. Some even give free meals and presents! You could help organizing and taking part of everything or simply go and enjoy. Whatever makes you happy.
Explore the stores
Go shopping and get yourself something nice. Even if it's just a small thing…do it! Some malls and stores even fairs are open on Christmas Day. They also organize different events so you'll have a great time.
Go to a concert
There are so many during Christmas Days…find one that you like and enjoy it.
A party at work
Not everyone it's free on Christmas Day…lots of people are working. I know this might sound sad but instead of staying all alone home, being with your co-workers might be what you need. Bring some food and drinks and party at work. Obviously you won't work like a normal day. You might end up having a fantastic day!
No matter how you choose to spend your Christmas, focus on making your winter holidays as wonderful as you can. Just keep in mind that you're not alone. You can always offer your help and share the joy with others.
I wish you all a wonderful Christmas!
P.S. If you have any other tips to share, just write them in the comment section below. You never know…it might help someone!