While this craziness with COVID has been affecting all of us, the way each of us is experiencing it is different.
We are all different and have different life circumstances.
Some people are still in lockdown with their lovely families, others are all alone with no one to care about them.
Some are stuck with violent people in an unhealthy environment and can be risky for their physical and mental health.
There are people who don't mind spending so much time alone and they are ok with it, but for those who are not used to being alone and away from their loved ones it can be pretty challenging and depressing.
Some made the best of this period of time by enjoying the break from the busy, stressful, fast life. Others are full of fear and uncertainty about what the future brings.
And let's not forget those who have lost someone they loved during this time.
Fear, anxiety, unknown, lost jobs, financial problems, loneliness, uncertainty, constant worry, etc… they all had a big impact on everyone's life.
BUT in all of this, people realized how important health is and they keep searching for ways to improve their health. So why not take advantage of the natural ways you can keep yourself healthy?
As easy as they might seem you would be surprised to find out how many people ignore them!
Here are some healthy tips anyone can do!
Nourish Your Body
How many times do you just grab whatever you can get in a hurry and how many times do you actually have a nutritious, healthy meal?
Think about it!
Health is right there on your plate!
Food can be medicine but it can also be poison to your body. Take care of your health by choosing healthy food and drinks.
If you're spending more time at home this year due to COVID why not try to cook your own food?
There are so many yummy, healthy and delicious recipes to try. Plus, they are not that complicated. You'll learn something new and who knows maybe you'll enjoy cooking so much that you'll turn it into a passion!
Give it a try. It might become a delicious habit!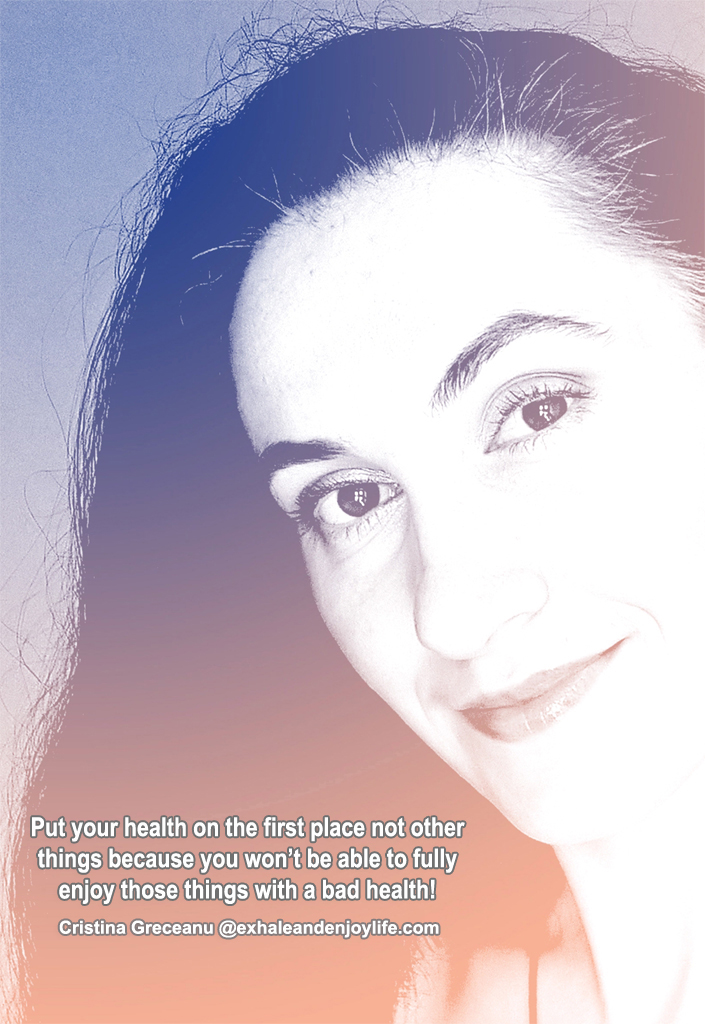 Get Some Fresh Air
Since so many people are still in lockdown and it was like that for most of the last year, not many got out of the house.
If you're felling depressed, and spend all day glued to the couch in front of the TV, unmotivated or, if you work hours on the computer, take care of the house, kids, cook, clean, etc… it can become overwhelming.
A simple walk to get some fresh air can do wonders to your well-being.
Around your neighborhood, in your garden, in a park, whatever works for you. Just get some fresh air!
Drop The Stress Level In Your Life
You already know that stress can have a huge impact on your life and your health so learning to manage it will help you improve your health and life.
Here are two articles that I wrote some time ago with more details that will help you reduce the stress in your life.
How To Reduce Stress Naturally and Relieve Stress Fast
Your Body Is Designed To Move
Keeping your heart healthy, better sleep, strong, functional muscles and bones, healthy lungs, improving your mood, no more depression, boosting your energy levels and immune system are just a few of the benefits you'll get from keeping yourself active!
Any type of exercise is good for you especially if you are consistent with it. The more you move the better for your health.
It doesn't have to be something hard. Even cleaning the house, organizing things, playing with your kids or pets is still better then staying on the couch.
Pick any form of exercise you enjoy and do it. Improve your health by keeping yourself active.
Check out my article for building a healthy, fit body for life and also these easy tips will help you stay motivated.
Hydrate
Have you ever forgotten to water your plants? Do you remember how they looked or what happened to them? Just like a plant needs water to grow and be healthy and alive so do you!
Start drinking more water!
Sleep
Sleep deprivation can have a huge impact on your health. If you're not getting enough sleep you can put your health at risk.
Your energy and productivity will drop, headaches, fatigue, difficulty concentrating on simple tasks, changes in your mood, weak immune system, anxiety, lose of balance, heart problems, weight gain, low sex drive, memory loss, depression…these are just a few effects of poor sleep quality!
Make your sleep a priority!
Have A Good Laugh
Aren't we all happier when we're having a good time? Laughter is a great way to keep yourself healthy!
It takes the stress away and tension, drops your anxiety levels, improves heart and lungs, gives better immune system, brings the feel good mood…what are you waiting for? Give it a try!
Start with some funny movies, videos or pictures. You can even create a collection of your favorite funny moments that you can check out anytime you need it!
Keep Your Mind Active
Healthy mind, healthy body! Learn something new, start doing that project that you keep postponing, try some games, grab some interesting books, start learning a new language!
Take Care Of Yourself
I've noticed that ever since this pandemic has started some people have stopped caring about how they look and about what they do.
It's OK. We all have moments when we feel demotivated.
I know you might not feel like doing much right now but… why not take all this time to actually take better care of yourself? Come out stronger and healthier!
Here are more helpful articles for you. Give them a try!
Healthy Habits To Improve Life And Be Happy